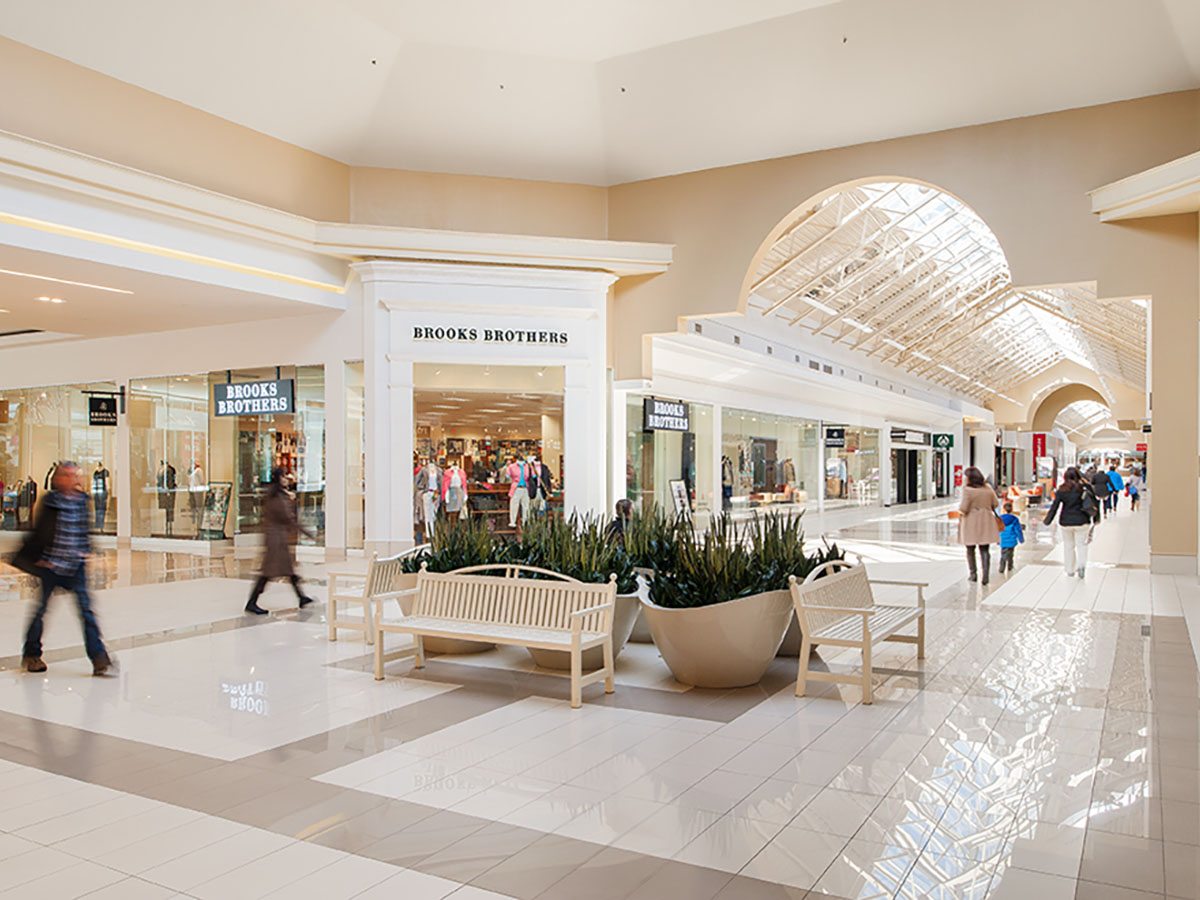 Terms & Conditions
Please read these Terms of Use (the "Terms") carefully regarding The Macerich Company and/or its affiliates and subsidiaries (collectively referred to herein as "Macerich", or "us/we/our"). By accessing our Wi-Fi network, using the website http://www.macerich.com, our shopping center websites, our mobile applications, our social media resources, our pages on social media sites and/or any other Macerich websites (collectively referred to as the "Site"), you understand and agree that the services provided via the Site are governed exclusively by these Terms and Macerich's Business Privacy Policy and Consumer Privacy Policy, as applicable, (collectively, the "Agreement") and you further warrant that you have read and understand the Agreement and agree to be bound by the terms therein.
You also acknowledge that Macerich may, from time to time, in its sole discretion and without notification to you, change these Terms, which change shall be effective upon Macerich's posting of the updated Terms on the Site. By continuing to use the Site after we post any such changes, you agree to be bound to the Terms as modified. You should review the Terms each time you visit or use the Site. If you do not agree to these Terms, you may not use the Site.
License and Access to the Site
Subject to the restrictions and conditions set forth in these Terms, Macerich grants you a limited, revocable, non-transferable, non-exclusive license to access and use, view, download, and print any materials available on the Site solely for informational, non-commercial purposes, and in compliance with all applicable laws and regulations. This license shall not include any right to resell or make any commercial use of the Site or any information, content and/or materials available on, within, via or in connection with the Site (collectively, "Content"); to any derivative use of the Site or its Content; or to use data mining, robots, or similar data gathering and extraction tools or techniques on the Site. Registration on the Site is voluntary, but some Site functions may not be accessible or work properly without registration.
Macerich accepts no liability for the accuracy or completeness or use of, and no liability to update, the Content contained on the Site. We make no guarantees regarding the availability of the Site. Additionally, we reserve the right, within our sole discretion, to discontinue the Site, or to restrict anyone's access to the Site for any reason. You agree that we will not be liable to you or any third party for any such discontinuance or modification of the Site. Any rights not expressly granted by these Terms are reserved by us.
Privacy Policy
Any personal information or other information about you collected by us through, or in connection with, the Site is subject to our Privacy Policy (open in new window). The Macerich Privacy Policy (open in new window) is hereby incorporated into the terms of this Agreement by this reference.
Warranties and Consents
You hereby warrant that all information, whether personal or otherwise, submitted by you via the Site is correct and current. You further warrant that you have the legal right and ability to agree to and be bound by these Terms herein as well as to disseminate any material you upload to the Site. You additionally consent to the use of electronic signatures whenever necessary and acknowledge that such electronic signatures are legally binding and enforceable.
Sweepstakes, Contests, and Promotions
Any sweepstakes, contests or other promotions, including rewards programs and text messaging programs (collectively, "Promotions") that may be offered via the Site or otherwise will be governed by a separate set of rules or terms and conditions that, in addition to describing such Promotion, may have eligibility requirements, restrictions, terms and conditions governing the Promotion, use of submissions you make, and disclosures about how your personal information may be used. It is your responsibility to read such rules or terms and conditions to determine whether or not you are eligible and want to participate, register and/or enter, according to each Promotion's rules or terms and conditions. By participating in any Promotion, you will become subject to those official rules or terms and conditions, and you agree to comply with and abide by such rules or terms and conditions, and the decisions of the sponsor(s) identified therein, if applicable, which shall be final and binding in all respects.
Texting Terms and Conditions
By providing your mobile number on our web form or sending us a text message, you consent to receive autodialed and non-autodialed text alerts at that number regarding exclusive offers and promotions from Macerich. You may receive up to 3 text messages per week.

You understand that you do not have to sign up for this program in order to make any purchases, and your consent is not a condition of purchase. By providing your mobile number, you are confirming that the telephone number that you provided is your mobile number and that you have the authority to grant Macerich the right to send text messages to that mobile number.

If you change or deactivate your mobile number, you must notify us of this change by emailing us at sms.help@macerich.com or reply "STOP" or opt out here.

For more information, contact Macerich at 888-324-5015 or sms.help@macerich.com.

While the texts we send are free, message and data rates may apply. You should check with your wireless carrier if you have questions about your plan and its coverage.

Macerich is not liable for TCPA violations caused by a carrier network failure or malfunction.

You understand that we will send mobile text messages using automated technology.

If you no longer wish to be a part of that Text Program, reply "STOP" to 1-844-515-2462 or opt out here. After texting "STOP" or opting out, you will receive one additional text message confirming that your request has been processed. Texting "STOP" or opting out to the provided link is the recommended method for opting out to assure prompt removal. If you choose to request an opt-out by other means it may result in delays in complying with your request.

For more information, contact us at privacy@macerich.com. Submit an individual rights request here.
Intellectual Property Ownership
Any and all rights associated with the Site, including, without limitation, any inventive concepts, know-how, publicity rights, trademarks, trade-dress, trade secrets, copyrights and patents ("Intellectual Property") are the sole property of Macerich or its licensors, affiliates or other third parties. Except as otherwise expressly authorized by these Terms, you may not copy, reproduce, modify, display, lease, loan, sell, create derivative works from, upload, transmit, distribute or otherwise use any Intellectual Property displayed or made available in, or otherwise associated with, the Site, in any way, without Macerich's express written consent. Except as provided herein, Macerich does not grant to you any express or implied rights to our or any third party's Intellectual Property.
Submissions
You hereby grant to Macerich a perpetual, irrevocable, worldwide, non-exclusive, fully paid, royalty-free, fully transferable and sub-licensable license to use any and all information, feedback, suggestions, ideas, content and materials submitted, uploaded or posted by you via or in connection with the Site and to exploit such information, feedback, suggestions, ideas, content and materials in any way, whether for profit or not, in any manner, medium and jurisdiction, now known or hereafter discovered throughout the universe, without permission or notice.
You represent and warrant that you have the legal right and ability to grant the foregoing license to Macerich.
Any such submissions, uploads or postings on the Site are not made in confidence, and no fiduciary relationship is created between Macerich and you. You acknowledge and agree that you have no expectation of review, compensation or consideration from any and all exploitations by Macerich of your posted, uploaded or submitted information, feedback, suggestions, ideas, content or materials. To the extent that any moral rights or ancillary rights are involved, you agree not to enforce any such rights against Macerich.
Restrictions on Your Use
All Content, together with any improvements or modifications thereto, any derivative works based thereon, and the collection, arrangement and assembly of all Content, are the property of Macerich and/or its licensors, affiliates or other third parties and is protected by copyright and trademark laws. This Agreement does not grant you any license to modify or alter any Content. You shall keep intact, and shall not modify or obscure, all proprietary notices, including copyright notices, contained on any downloadable Content. You shall be solely liable for any damages resulting from any infringement or other violation of any copyright, trademark or other proprietary right, and for any and all other harm resulting from your use of the Site.
You may not submit, post, upload or transmit to or via the Site any materials, information or data that (i) infringes or otherwise violates any copyright, patent, trademark, trade secret, right of publicity, or any other right of any individual or entity; (ii) is defamatory, libelous, expresses hate, harassing, abusive or unlawfully threatening; (iii) is pornographic, obscene, vulgar or exploitative of any minor; (iv) contains or embodies any computer virus, Trojan horse, worm, time bomb, or other similar code or component designed to disable, damage or disrupt the operation of, permit unauthorized access to, erase, destroy or modify, any software, hardware, network or other technology; (v) impersonates any individual or misrepresents your connection to any other individual or entity; (vi) advocates illegal activity or discusses an intent to commit any illegal act; or (vi) otherwise violates any applicable law, rule or regulation. You acknowledge that Macerich is free to deem any user content on the Site as objectionable or inappropriate in its sole determination and without any notice or explanation.
Without our prior written consent, you may not: use any automated means to access this Site or collect any Content from the Site (including, without limitation, robots, spiders, scripts or other automatic devices or programs); frame the Site, utilize framing techniques to enclose any Content or other proprietary information, place pop-up windows over this Site's pages, or otherwise affect the display of this Site's pages; engage in the practices of "screen scraping," "database scraping," or any other activity with the purpose of obtaining Content or other information; use any meta tags or any other "hidden text" utilizing Macerich's name, trademarks, or service marks; use Macerich's logo or other proprietary graphic, trademark, or service mark as part of a link; or use this Site or any Content in any manner that violates applicable law or that could damage, disable, overburden, or impair this Site or interfere with any other party's use and enjoyment of this Site.
Termination
We may terminate your access to or use of this Site for any reason, including without limitation, if we believe that you have violated or acted inconsistently with these Terms. All of your warranties and indemnifications survive termination of this Agreement and any termination does not limit Macerich's right to relief in law or equity. Macerich's failure to act in any particular circumstance, including a failure to enforce the terms of this Agreement, does not waive the ability to act with respect to that or similar circumstances and shall not constitute a breach of this Agreement.
Links
The Site is based in the U.S. and may provide or include links to other websites, mobile sites, applications or resources. Because we have no control over such linked sites, applications and resources, YOU ACKNOWLEDGE AND AGREE THAT MACERICH IS NOT RESPONSIBLE FOR THE AVAILABILITY OF SUCH EXTERNAL SITES, APPLICATIONS OR RESOURCES, AND DOES NOT ENDORSE AND IS NOT RESPONSIBLE OR LIABLE FOR ANY CONTENT, ADVERTISING, PRODUCTS, SERVICES OR OTHER MATERIALS ON OR AVAILABLE FROM SUCH SITES, APPLICATIONS OR RESOURCES. YOU ACKNOWLEDGE AND AGREE THAT MACERICH SHALL NOT BE RESPONSIBLE OR LIABLE IN ANY WAY, FOR ANY DAMAGE OR LOSS IN CONNECTION WITH THE USE OR RELIANCE ON ANY CONTENT, GOODS, SERVICES, OR SITES AVAILABLE ON OR THROUGH ANY SUCH LINKED SITE, APPLICATION OR RESOURCES.
Exclusion of Warranty
MACERICH MAKES NO WARRANTY OF ANY KIND REGARDING THE SITE AND/OR ANY CONTENT PROVIDED ON, VIA OR IN CONNECTION WITH THE SITE, ALL OF WHICH ARE PROVIDED ON AN "AS IS," "AS AVAILABLE" BASIS. MACERICH DOES NOT WARRANT THE ACCURACY, COMPLETENESS, CURRENCY OR RELIABILITY OF ANY OF THE CONTENT FOUND ON THE SITE AND EXPRESSLY DISCLAIMS ALL WARRANTIES, INCLUDING IMPLIED WARRANTIES OF MERCHANTABILITY, FITNESS FOR A PARTICULAR PURPOSE AND NON-INFRINGEMENT, AND THOSE ARISING BY STATUTE OR OTHERWISE IN LAW OR FROM A COURSE OF DEALING OR USAGE OF TRADE. MACERICH DOES NOT WARRANT THAT THE SITE, ANY CONTENT, MACERICH'S SERVERS OR ANY E-MAIL SENT FROM THE SITE ARE UNINTERRUPTED, SECURE, OR FREE OF ERRORS OR VIRUSES OR OTHER HARMFUL COMPONENTS. WHERE SUCH LIMITATIONS ARE PROHIBITED BY LAW, MACERICH'S LIABILITY SHALL BE LIMITED TO THE FULLEST EXTENT OF APPLICABLE LAW.
Limitation of Liability
MACERICH ASSUMES NO RESPONSIBILITY, AND SHALL NOT BE LIABLE FOR, ANY DAMAGES TO, OR VIRUSES THAT MAY INFECT YOUR COMPUTER EQUIPMENT OR OTHER PROPERTY ON ACCOUNT OF YOUR ACCESS TO, USE OF, OR BROWSING IN THE SITE OR YOUR ACCESS TO OR DOWNLOADING OF ANY CONTENT FROM THE SITE. IN NO EVENT, INCLUDING NEGLIGENCE, SHALL WE BE LIABLE FOR ANY INJURY, LOSS, CLAIM, DAMAGE, OR ANY SPECIAL, EXEMPLARY, PUNITIVE, DIRECT, INDIRECT, INCIDENTAL OR CONSEQUENTIAL DAMAGES OF ANY KIND (INCLUDING, BUT NOT LIMITED TO LOST PROFITS OR LOST SAVINGS), WHETHER BASED IN CONTRACT, TORT, STRICT LIABILITY, OR OTHERWISE, WHICH ARISES OUT OF OR IS IN ANY WAY CONNECTED WITH THIS AGREEMENT OR ANY USE OF, INABILITY TO USE OR RELIANCE ON THE SITE OR CONTENT FOUND THEREIN.
Indemnity and Release
You agree to indemnify, defend and hold Macerich and its subsidiaries, affiliates, officers, members, employees, agents, and business partners harmless from any claims, damages, costs, expenses (including reasonable attorneys' fees), allegations, losses, and liabilities of any nature whatsoever arising from or relating to: your violation of this Agreement; your use of the Site and the Content, and/or any products and services available on or via the Site; any information, feedback, suggestions, ideas, content and materials submitted, uploaded or otherwise transmitted by you via or in connection with the Site; your access to or use of any web sites linked to this Site; and any dealings between you and any third parties relating to this Site.
Macerich maintains the right to employ outside counsel and assume control of the defense and settlement of any matter subject to your indemnification obligation. All of your indemnification obligations, releases, and warranties under this Agreement shall stand even if Macerich is made aware of the possibility of damage before such damage occurs.
Jurisdictional Issues
The Site is hosted in the United States, with servers in the U.S. and is intended only for United States visitors. If you are visiting this Site from another jurisdiction, you understand that your use is at your own risk, and that we make no representations whatsoever in regards to the availability or appropriateness of any Content, products, or services discussed or made available on the Site. You further understand that any data you submit to us is subject to the terms of our Privacy Policy (open in new window).
Choice of Law and Forum
This Agreement shall be exclusively governed by and construed in accordance the laws of the State of California, without regard to the conflict of laws provisions. You hereby agree to the exclusive subject matter and personal jurisdiction and venue of the state and federal courts located in the County of Los Angeles, State of California, and irrevocably waive any and all objections based upon jurisdiction or venue.
California Consumer Rights Notice
Pursuant to California Civil Code Section 1789.3, California residents may also be entitled to the following specific consumer rights notice:
The name, address and telephone number of the provider of this Site are The Macerich Company, 401 Wilshire Blvd., Suite 700, Santa Monica, CA 90401, (310) 394-6000. Complaints regarding the Site or requests to receive further information regarding use of this Site may be sent e-mail to privacy@macerich.com.
The Complaint Assistance Unit of the Division of Consumer Services of the California Department of Consumer Affairs may be contacted in writing at 1625 North Market Boulevard, Suite N-112, Sacramento, CA 95834 or by telephone at (916) 445-1254 or (800) 952-5210.
Severability and Integration
Unless otherwise specified herein, this Agreement constitutes the entire agreement between you and Macerich with respect to the subject matter hereof and supersedes all prior or contemporaneous communications and proposals (whether oral, written, or electronic) between you and Macerich with respect to such subject matter. If any part of this Agreement is held invalid or unenforceable, that portion shall be construed in a manner consistent with applicable law to reflect, as nearly as possible, the original intentions of the parties and the remaining portion shall remain in full force and effect.
No Waivers
Our failure to act with respect to any breach this Agreement does not waive our right to act with respect to any other breach of this Agreement.
Assignment
You may not assign or delegate your rights or obligations under this Agreement. Any purported assignment or delegation by you shall be ineffective and void. We may freely assign or delegate any or all of our rights or obligations under this Agreement, without notice to you.
Contact
If you have any questions relating to these Terms, the Site or Macerich, please contact privacy@macerich.com.
Notice and Procedure for Making Claims of Intellectual Property Infringement
Macerich respects the intellectual property rights of others. If you believe that any content on this Site may infringe your copyrights or other intellectual property rights, please provide Macerich, in writing, the information specified below.
An electronic or physical signature of the person authorized to act on Macerich of the owner of the intellectual property interest;
A description of the intellectual property right that you claim has been infringed;
A description of where the material that you claim is infringing is located on the Site;
Your address, telephone number, and e-mail address;
A statement by you that you have a good faith belief that the disputed use is not authorized by the intellectual property owner, its agent, or the law; and
A statement by you, made under penalty of perjury, that the above information in your notice is accurate and that you are the intellectual property owner or authorized to act on the intellectual property owner's Macerich.
Please note that this procedure is exclusively for notifying Macerich that your intellectual property rights have been infringed. Macerich's agent for notice of claims of copyright infringement or other intellectual property infringement on the Site can be reached as follows: privacy@macerich.com.
Last Updated: February 2022
Copyright © 2022 The Macerich Company