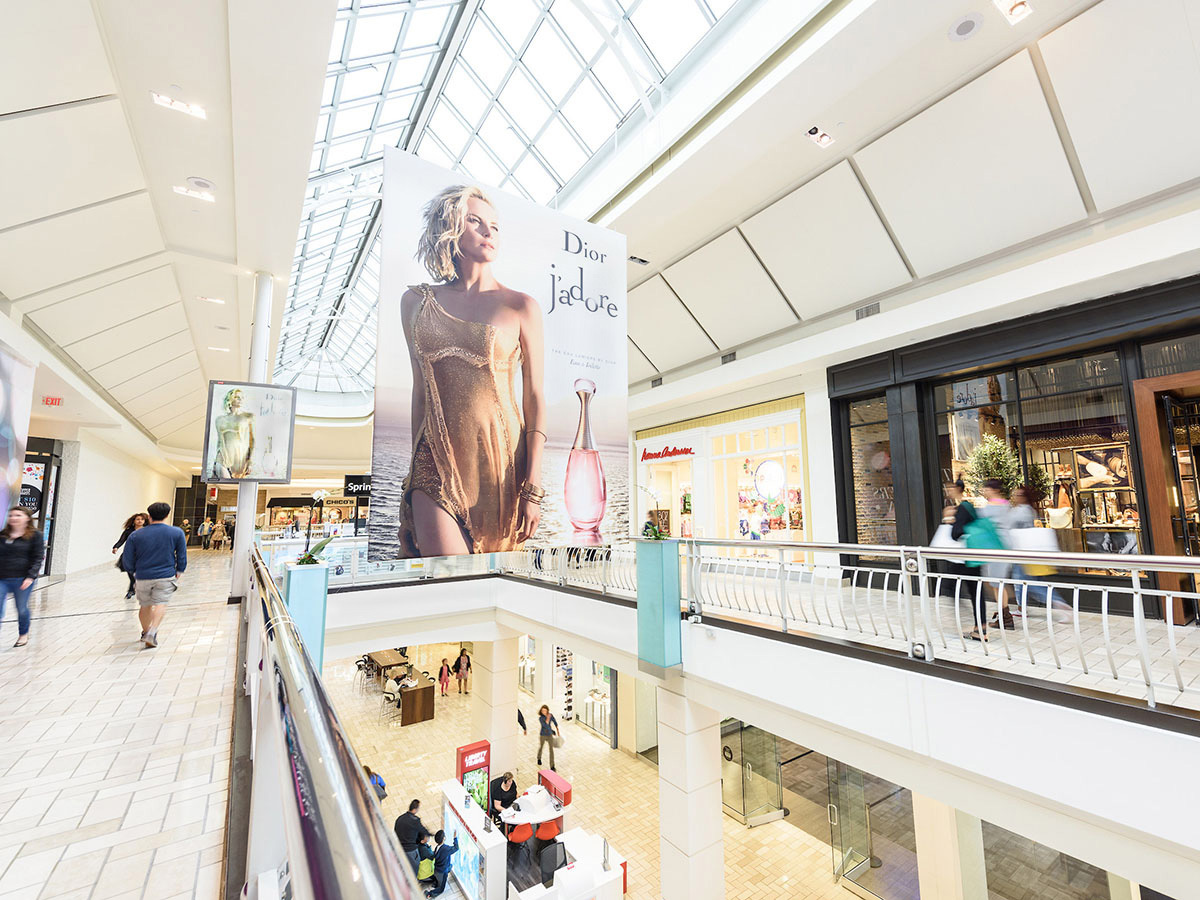 Digital Spectaculars
Available in select Macerich shopping centers in top DMAs: NY, LA, Chicago, Philadelphia, Washington, D.C., Phoenix/Scottsdale, Denver and Portland. Double-sided, rotating spectacular digital displays, installed in high-traffic areas, utilize top-of-the-line technology and give brands, retailers, and advertisers the ultimate placement to run digital and/or static ads, motion picture spots as well as interactive features such as live texting, crowdsourcing, dynamic and anamorphic capabilities, and much more.
Our large format digital spectaculars showcase brands in a unique way.

These digital spectaculars are eye-catching and hard-to miss making brand visibility a major benefit.

Bring your brand directly to your potential customers.

Positioned in high-traffic, dominant shopping centers in top markets.
Macerich Media Network
Macerich shopping centers are ideal places to reach consumers with in-mall media when they are predisposed to making purchases. Reach and frequency are optimal – shoppers view advertisements when entering the mall, visiting the food court and throughout the common area. Macerich's in-mall media break through the clutter with high-impact, high-visibility, spectacular advertising and promotional messaging. Begin utilizing our premium space to target your consumer and promote your brand and/or service today.
Large-format Banners
Promote your brand, service, sales and events when shoppers are inclined to make purchases.

In-mall media allows you to reach consumers close to the point of sale.

Peloton captured shoppers' attention at Tysons Corner Center with a large-format banner.

A high-impact banner placement is a time-tested way to reach shoppers.
MAC Connect
Digital kiosk network includes high-definition displays host vibrant, rich color for impactful full motion advertising.

Utilize dynamic digital capabilities to enhance your brand's digital strategy.

Digital kiosk network strategically placed at eye-level for maximum reach, frequency and exposure in highly trafficked common areas.
Backlit Kiosks
Our backlit kiosks are strategically placed in highly visible common area locations at eye-level.

Purchased as a network, these units ensure advertisements are seen throughout the shopping journey.

Contact us today to get started.
Spectaculars, Wallscapes & Custom Elements
Capture shoppers' attention with a unique activation during their journey.

Showcase your brand in an unexpected way by utilizing the center's architectural features.

Present your brand to shoppers as they enter the center, or at high-visibility locations throughout.

Our experienced team can help find a placement that is sure to elevate your brand.
Exterior Billboards
Experience Scottsdale – Santa Monica Place
Elevator & Escalator Wraps
IWC – Scottsdale Fashion Square

Peloton – Tysons Corner Center
Let's Get Started
Whether you're a national brand, agency, or new-to-market concept, let our team create a personalized package that fits your needs. Expand your reach with Macerich properties today.