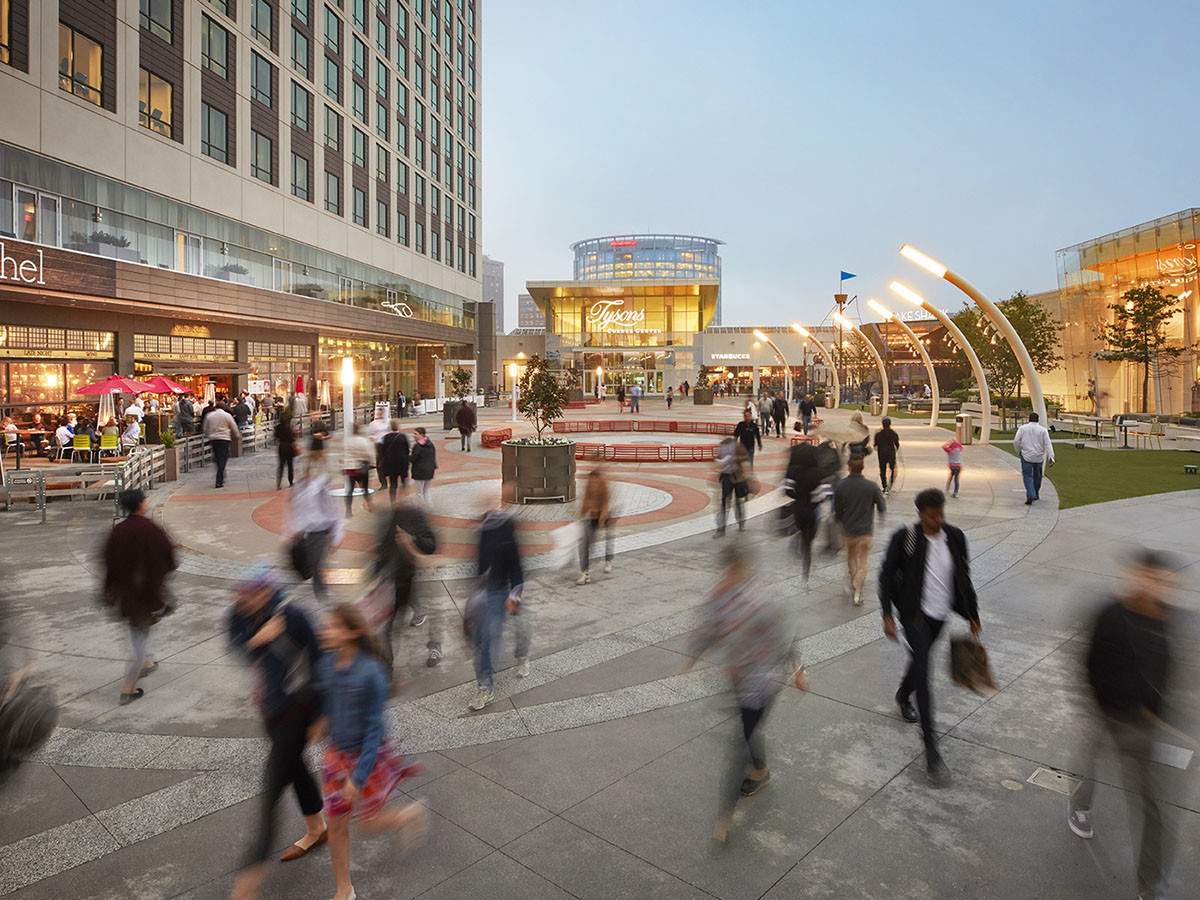 The Macerich Company Business to Business Privacy Policy
Table of Contents
Business to Business Privacy Policy
This Business to Business Privacy Policy ("Privacy Policy") applies to all tenants and all companies engaging in a business transaction with The Macerich Company, its affiliates and subsidiaries (collectively "Macerich" "we", "us" or the "Company") and explains how we collect, use, and share your information, including how you can access and update your personal information. This Privacy Policy is designed for businesses and is not intended for individuals' personal, family or household use. Macerich's consumer privacy policy is available at macerich.com/privacy and applies to any individuals, family or households. Our websites (the "Websites"), mobile applications (the "Applications"), the shopping centers (collectively, the "Centers" and each individually, the "Center") and Internet-based portals and other resources (the "Web Services"; collectively, with the Websites, Centers, Applications and individually, the "Site") contain the most up to date consumer privacy policy in effect and any changes that may have been made to it. We treat all information collected for leasing premises, joint venture partnerships, sponsorships, marketing transactions, and any other business relationship related thereto as pertaining to individuals acting as business representatives, rather than in their personal capacity.
As our services evolve and we perceive the need or desirability of using your Information (as defined below) collected in other ways, we may from time to time amend this Privacy Policy. The effective date appears at the end of this Privacy Policy.
1. What Information Does Macerich Collect?
We collect information that is provided as part of business discussions, contract negotiations, contract management, or otherwise provided to us when you contact us in person, by physical delivery (e.g., mail or courier) through email, or via the Site. You can choose not to provide certain information, but then you might not be able to enter into or maintain a business relationship with us.
For purposes of this Privacy Policy, "Information" means information (whether stored electronically or in paper based filing systems) that could identify you or one of your principals, employees or contractors, such as name, address, telephone number, mobile number, email address, Social Security Number, Employer Identification Number, bank account information, and criminal and civil background check. We may also collect this type of information from you about others, such as employees, owners, contractors, guarantors or partners (some of whom may be family members) when necessary to maintain our business relationship. We also collect information such as demographic data, data about your online activity, and other information that is not used to identify you.
Macerich collects only that Information that is relevant for the purposes for which the data is requested.
Information You Give Us
Legal Documentation. When entering into a legal agreement with us, including without limitation, a lease, license, service agreement, guarantee or any other legal agreement, you may provide contact information, including name, address, email address, phone number, employer identification number, social security number, bank account information, tax returns and any other financial information reasonably requested by us.
Communications with Macerich. If you provide feedback through a form (whether online or in-mall) or contact us via e-mail, we will collect your name and e-mail address, as well as any other content or information you provide. In addition, we may obtain your employee's contact numbers, names and e-mail addresses through these communications.
We may also request information to provide a demographic profile of our properties. This information is requested on a strictly voluntary basis. The profile may include your business role, gender, age, race, ethnicity, veteran status, disability or sexual identity (LGBTQIA). We use this information to promote our tenants and properties, including seasonal promotions, respond to investor interests, reach our social objectives, and identify opportunities to reach potential prospects via leasing and/or business development. We also use this information to identify areas of growth, but we do not make specific business decisions other than strategic initiatives through the collection of this information.
Information We Collect About You
When you visit our Site, our web server automatically collects and stores the following information:
Technical Information. Technical information, including the Internet protocol (IP) address used to connect your computer to the Internet, your location, referring website address, media access control address (MAC), browser type and version, time zone setting, browser plug-in types and versions, operating system and platform; and information about your visit, including the full Uniform Resource Locators (URL), clickstream to, through and from our Site (including date and time), pages on our Site you viewed; page response times, download errors, duration of page visits, page interaction information (such as scrolling, clicks, and mouse-overs), methods used to browse away from the page, and any phone number used to call our customer service number.
Video Recording. Macerich places video cameras at certain Centers. Macerich uses these cameras to photograph individuals and analyze the photographs for security purposes, traffic counting and to assess demographic data, which may include age and gender. This may include photographs of individuals who are visiting those Centers for business purposes. Information obtained from video cameras may include photographs of your employees, contractors, suppliers and vendors. We use this information to optimize shopping experiences at our Centers, and for marketing, strategic and security purposes. Due to the nature of such technology, we cannot exclude those individuals from being photographed or videotaped while on any Center. Photographs and videos of individuals are generally deleted after 30 days, although such photographs or videos may be retained longer if requested by law enforcement or if Macerich believes such photographs or videos may be needed in an investigation or legal proceeding. Macerich generally does not make any attempt to identify the individuals whose images are captured, unless a suspected criminal incident occurs necessitating the identification of a specific individual.
Location Information. We also employ in some Centers other mobile data technology to observe how individuals travel through our malls, assess the duration of time they are on our Centers, count the total numbers of individuals by hour, by entrance and other zones within the Center, and detect whether the individuals is a repeat visitor and the frequency of his or her visits. We employ these technologies directly and through software platforms developed and implemented by third parties. These technologies use signals broadcast from a smartphone or other mobile device and the device's MAC address, together with the time, signal strength and location of the observing sensor. This may be accomplished using Wi-Fi access points from any guest Wi-Fi we may offer at the Centers, regardless of whether you use such Wi-Fi, or using Wi-Fi sensors provided by a Macerich service provider. By the nature of these technologies, we would collect this information regarding individuals who are visiting Centers for business purposes. We use such information for marketing, strategic and security purposes. If you, your employees or agents want to avoid any collection of data by means of such mobile device detection technology, you should ensure all mobile devices you may be carrying are fully powered off at all times while on our property.
License Plate Recording. At certain Centers, Macerich photographs and records license plate numbers of shoppers and others who use our parking facilities, which may include individuals visiting the Centers for business purposes. This may include license plate numbers of your employees, contractors, suppliers and vendors. Macerich collects that information to assist drivers in locating their automobiles; to monitor available space in parking structures; and in certain locations, to facilitate automatic or cashless parking charges.
Information We Receive from other Sources
We also receive information about you from third parties who operate other Sites or services we use to provide our products and services to customers, as well as third parties who provide services to us or operate software platforms which we use in our business operations, as well as third parties who provide services to us or operate software platforms which we use in our business operations. We work closely with third parties, including, for example, business partners, promoters, affiliates, and sub-contractors in technical, payment and delivery services, advertising networks, marketing analytics providers, promotions, and search information providers.
Cookies. When you use our Site, we may collect information by automated means, such as through using technologies like cookies, web server logs, web beacons, and JavaScript. For additional information regarding cookies and other ways we collect information automatically, link to our Cookie Policy (open in new window). By visiting our Site you explicitly agree to our collection and use of this data.
Device Information. We collect data about the browsers and devices you use. The data we collect includes browser or device model and settings, operating systems, unique identifiers and the version of the app you're using. We also collect data about how your browsers and device interact with our services, including IP address and system activity.
Social Networks. We may also collect information you post at other areas of the Site, such as public areas of social media platforms including message boards, blogs and reviews.
Return to top
2. How does Macerich use Information?
General. We use your information for various reasons, including to:
Provide and Improve Services

: Facilitate and improve your in Center experience. We use the information we collect to perform essential business operations (i.e., how many people are entering our mall) and to develop, provide, improve and personalize Macerich products and services and to provide customer support.

Communicate with You

: We use the contact information you provide us, such as your email address, to communicate with you about our services, provide updates on events, offers, promotions and other items we think may be of interest to you.

Other Uses of Your Information

: We also use your information to detect and investigate illegal activities and to protect the rights and property of Macerich, its customers and others.

Development of Social Awareness and Business Initiatives

: We use demographic information to promote our tenants and properties, including seasonal promotions, respond to investor interests, reach our social objectives, and identify opportunities to reach potential prospects via leasing and/or business development.
Information you give to us.
We will use this information:
to carry out our obligations arising from any contracts entered into between you and us, or between you and our promoters, affiliates, or distributors;
to provide notices to you arising out of our contracts and other obligations;
to notify you about changes to our service and policies;
to comply with applicable laws and regulations;
to build and manage business relationships;
to detect or prevent fraud;
to perform data analyses using anonymized and aggregated Information;
to identify and enhance our business opportunities and social awareness.
Information We Collect about You.
We will use this information:
to administer our Site and for internal operations, including troubleshooting, data analysis, testing, research, statistical, and survey purposes;
to improve our Site to ensure that content is presented in the most effective manner for you and for your computer;
as part of our efforts to keep our Site safe and secure.
Information we receive from other sources.
We will combine this information with information you give to us and information we collect about you. We will use this information and the combined information for the purposes set out above (depending on the types of information we receive).
Return to top
3. Do we share your Information with any Third Parties?
We partner with third parties to provide some of the services and products available on our Site and at our events. We sometimes disclose your Information to those third parties, and they sometimes collect your Information in the first instance and provide it to us. All of these third parties use your Information only on behalf of Macerich and under the instructions of Macerich on how your Information may be used and processed. Macerich and our partners will use your Information for limited purposes as specified in this Privacy Policy (see Section 2). Macerich has written agreements with these third parties in which they agree to limit their use of your Information and agree to provide protections for your Information.
We may also disclose your Information to third parties in the following circumstances:
As a manager of a Center, Macerich will disclose the Information to the owner of such Center;
If we sell or buy any business or assets, in which case we will disclose your Information to the prospective seller or buyer of such business or assets as part of the purchase, transfer, or sale of services or assets;
If we sell all or substantially all of our assets to a third party, in which case Information about our vendors, service providers and business relationships will be one of the transferred assets (subject to the terms of any agreement restricting the use of confidential information);
If we are under a duty to disclose or share your Information in order to comply with any legal obligation, or any lawful request by public authorities (including to meet national security or law enforcement requirements), or in order to enforce or apply our Terms of Use

(open in new window)

and other agreements; or to protect the rights, property, or safety of us, our customers, or others.
Whenever we share information with third parties, we will take steps to ensure that the third parties put in place adequate measures to safeguard your Information, and they will be required to use any Information for only the intended purpose for which it was shared.
Return to top
4. How We Store Your Information.
Macerich uses reasonable and appropriate measures to protect your Information from loss, misuse and unauthorized access, disclosure, alteration and destruction, taking into account the risks involved in the processing undertaken and the nature of the Information we collect.
We will keep your Information for as long as we need it, or as otherwise prescribed by law, for the purposes set out above. This period will vary depending on your interactions with us. We may also keep a record of correspondence with you for as long as is necessary to enforce our legal rights arising out of our relationship.
Return to top
5. Access to Other Websites
Our Site may include links to and from other websites of our partner networks and affiliates, or from entities who provide services to us or our Centers. If you follow a link to any of these websites, please note that these websites are not covered by this Privacy Policy. We are not responsible for the privacy practices of any third parties or the content of linked sites although we do encourage you to read the applicable privacy policies and terms and conditions of such parties or websites. This Privacy Policy only applies to how Macerich deals with your Information, and it does not apply to any other company or any other company's websites even if you access them via our Site. Please check those websites' policies before you submit any Information to them.
Return to top
6. Your Responsibility
Although we will protect your privacy on the Site as described in this Privacy Policy, you should keep in mind that if you voluntarily disclose Information online or in person, that information may be accessible to others. This is also true if anyone else has access to your personal computer, such as an employer or family member. Additionally, this Privacy Policy is incorporated into Macerich's Terms of Use (open in new window) by reference. It is your responsibility to adhere to the requirements of the Terms of Use (open in new window) upon any use of the Site.
Return to top
7. California Legal Disclosures; California Consumer Privacy Act
Under the California Consumer Privacy Act of 2018, California residents have certain rights regarding their data. Since the Information we collect or obtain from you is collected or obtained within a business context, your information rights are different from non-business consumers. You may separately have rights under the CCPA. For more information on CCPA, click here (open in new window).
Financial Incentives
Macerich occasionally administers surveys and sweepstakes (collectively, the "Programs"). From time to time, Macerich may offer participants in market research surveys or studies gift cards, coupons or other price reductions, or complimentary sweepstakes admissions in exchange for your voluntary participation in these Programs.
Financial incentives, as defined under the CCPA, include programs, benefits, or other offerings, including payments to consumers as compensation, related to the collection, deletion, or sale of personal information about them. To the extent the gift cards, price reductions, or sweepstakes admissions are considered financial incentives, the following notices are provided to California resident participants.
To opt-in to the financial incentive and receive the gift card, price reduction, or sweepstakes admission code, a participant is required to complete all questions and agree to the terms and conditions of that specific market research survey. You can find a full description of the terms and conditions within each market research survey. We collect identifiers such as your name and email address in order to administer the surveys, and may collect commercial information such as survey responses related to your interactions with Macerich and the type of survey you participated in.
If you have participated any of the Programs, you have the right to withdraw from the financial incentive at any time. To opt-out, email us at privacy.macerich.com and include "Withdraw from Survey Incentive" in the subject line of your email.
We generally do not treat consumers differently if they exercise a privacy right under California law. However, where you need to voluntarily provide the personal information requested in order to receive the gift card, price reduction, or sweepstakes admission, or other financial incentive, we are offering you a benefit that is reasonably related to the value of your data to us in connection with the benefit. Our reasonable estimate of the value of the personal information you provide to us when you sign up for a benefit takes into consideration a number of factors, including, among other things, our estimates regarding the anticipated revenue generated from the personal information, the costs of administering the Program, and the actual and anticipated expenses that we incur in the collection, storage, and use of such personal information in connection with the survey or study.


Return to top
8. Additional Policies in Compliance with the EEA Privacy Laws
In addition to the other policies described in this Privacy Policy, residents of the European Union or the EEA are afforded the following additional rights and protections as required by the General Data Privacy Regulation ("GDPR"). The additional rights and protections set forth in this section of this Privacy Policy apply only to residents of the European Union or the EEA.
GDPR Definitions
The following additional definitions apply to this Section of the Privacy Policy:
"Controller" means the Company which is the organization that determines the purposes for which, and the manner in which, any Information is Processed and used in its business.
"Processor" means any Person Processing Information.
"Person" means a natural person, corporation, association, organization, partnership, or other legal entity.
"Processing" is any activity that involves use of the Information. It includes, without limitation, obtaining, recording or holding the Information, or carrying out any operation or set of operations on the Information including organizing, amending, retrieving, using, disclosing, erasing or destroying it. Processing also includes transferring Information to third parties.
The legal basis for processing your Information
In order to comply with the GDPR, we are required to set out the legal basis for the processing of your Information. In accordance with the purposes for which we collect and use your Information, as set out above, the legal basis for processing your Information will typically be one of the following:
our own legitimate business interests, or the legitimate business interests of our service providers or our third party partners, promoters, affiliates, distributors, suppliers, vendors, and subcontractors, such as, for example, providing direct marketing to our customers of our products and services that we think would be of interest, permitting prospective employees to search and apply for job opportunities, handling inquiries from our promoters, affiliates, distributors, vendors, and customers, or other instances where we have carried out a legitimate interests assessment and have established an existing legitimate interest;
the performance of a contract that we have in place with you;
your consent, where appropriate; or
compliance with our legal obligations, including to meet national security or law enforcement requirements.
Where we store your Information
The data that we collect from you is stored on our servers or on servers provided by cloud service providers, such as Amazon Web Services. If you are a resident of the EEA, your Information may be transferred within or outside the EEA to areas where privacy laws may be less strict than in the EEA. By submitting your Information, you agree to this transfer, storing, and processing. We will take all steps reasonably necessary to ensure that your data is treated securely and in accordance with this Privacy Policy.
The transmission of information via the Internet is not completely secure. Although we take reasonable efforts to protect your Information, we cannot guarantee the security of your data transmitted to our Site; any transmission is at your own risk. Once we have received your information, we will use strict procedures and security features to try to prevent unauthorized access.
Addendum to how long we store your Information
In some cases, there is a legal requirement to keep Information for a minimum period of time. Except in those circumstances, we do not keep your Information for any longer than is necessary for the purposes for which the Information was collected or for which it is to be further processed.
Your rights with respect to your Information
Subject to certain exceptions, you have the following rights with respect to your Information:
to receive or access a copy of the Information that we hold about you;
to request that any inaccurate or incomplete Information be corrected or supplemented;
to have your Information erased, unless we have a legitimate reason to retain the Information (such as if we are required to do so for legal reasons); and
to ask us not to process your Information for a particular purpose, including for marketing.
All of these rights are subject to certain conditions and exemptions. For example, Macerich will not be obligated to erase your Information if we need to retain it to protect ourselves in the event of a legal claim.
To exercise any of these rights, please submit a written request to us using the contact information set forth below. The Company reserves the right to charge a fee in dealing with such a request as permitted by applicable law and regulations. You may also opt out of receiving additional marketing information by using the unsubscribe feature in any marketing email we send you.
Return to top
9. Contact Us
This Site is owned and operated by Macerich. If you have any questions or suggestions with respect to this Privacy Policy or our privacy practices, please e-mail us at privacy@macerich.com, call us at 1-866-686-3246, or you can contact us by mail at:
The Macerich Company
401 Wilshire Blvd., Suite 700
Santa Monica, CA 90401
Attn: Privacy Office
Return to top
10. Conditions of Use and Changes to Our Privacy Policy
If you have any concern about our privacy practices, please contact us with a thorough description, and we will try to resolve it. As our business changes, our Privacy Policy and Terms of Use (open in new window) may change also. We reserve the right to amend the Privacy Policy at any time to reflect changes to our practices or the law. We may e-mail periodic reminders of our notices and conditions, but you should check our Site frequently to see recent changes. Unless stated otherwise, our current Privacy Policy applies to all information that we have about you and your account.
Return to top
Updated: May 9, 2023
Effective: December 4, 2020